China's climate change talks: What's changed since Copenhagen?
Few expect big breakthroughs at China's climate change talks this week. The real success will be in smoothing relations after the Copenhagen debacle and small side deals that are more realistic, observers say.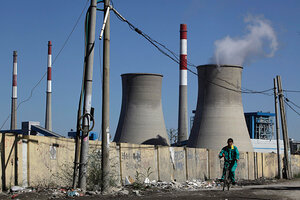 Jason Lee/Reuters
United Nations climate officials say they hope to get talks for a new global deal on carbon cuts back on track after last year's climate talk debacle in Copenhagen. This week's climate change conference hosted by China in Tianjin could give them just that opportunity.
But with mistrust still high and feelings raw, few expect any big breakthroughs in Tianjin, or at higher-level talks beginning in late November in Cancún, Mexico. Instead, participants are focusing on smaller side deals that are more realistic, observers say, indicating that though a comprehensive deal might not get finalized here the real success of the conference will be in smoothing relations with small steps.
"Almost everybody is downplaying their expectations," said Yang Ailun, Greenpeace China's head of climate and energy, in a phone interview from Tianjin. "People are talking more about specific issues they think they can make progress on, such as climate finance and forestry."
Tough road ahead
The Tianjin talks are a prelude to Cancún, when world leaders will again try to cobble together a global deal on reducing greenhouse-gas emissions blamed for global warming. The aim is to forge a consensus before the current Kyoto Protocol expires in 2012.
---