Commonwealth Games: Best and worst of times for India to attract foreign capital
India's private sector is strong, but the public sector's mismanagement of the Commonwealth Games may have tarnished the image of India as an investment opportunity, say economic analysts.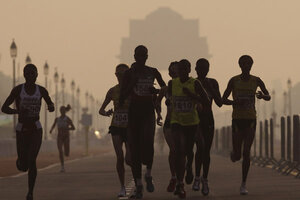 Manish Swarup/AP Photo
The successful start to the largest international sporting event India has ever hosted renewed optimism among government officials in India that the Commonwealth Games will bring in more foreign investment.
"It will have a multiplier effect on [the] Indian economy. It will help India further attract foreign direct investment," said Anand Sharma, India's minister for commerce and industry.
While the opening ceremonies did project a triumphant vision of India, the preparations beforehand were a high-profile fiasco, marked by missed deadlines, shoddy construction, and allegations of corruption.
Mixed signals
Experts say this mixed signal will, if anything, dampen foreign investment into India because investors won't be convinced that India's government has grown more business-friendly. When a country hosts such an event, it can be an important signal of how well the government in a particular country is working, and that can have an impact on investors, says Eswar Prasad, a professor of economics at Cornell University in Ithaca, N.Y. The signal from this year's Commonwealth Games? "India has a dynamic private sector and a fairly inept and sometimes corrupt government."
The debate among business analysts hinges on how surprising that signal will be to investors outside India. Dr. Prasad argues that serious international investors already knew this about India, so while the games won't help the country attract more dollars, little harm was done.
---