India worries that troubled Commonwealth Games wounded its reputation
The Commonwealth Games revealed lax security, poor sanitation, and shoddy building in the capital of India.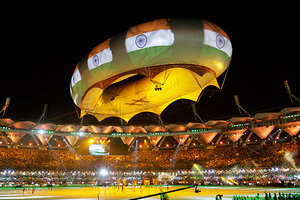 Lee Jin-man/AP
Indian press was quick to proclaim the 19th Commonwealth Games the "best ever" following a spectacular closing ceremony Thursday, but the 12-day event also begged the question: Did the games cause lasting damage to India's reputation?
After years of breathless coverage of the country's economic miracle, negative elements made international headlines as a chain of events unfolded ahead of the Oct. 3 opening ceremony: a drive-by shooting in Delhi injured two Taiwanese tourists, foreign delegates were quoted describing parts of the athletes' village as unlivable, and a footbridge near the main stadium collapsed, injuring 27 people.
The worst-case scenarios didn't take place. There was no terrorist attack, no buildings collapsed, and there was nothing but praise for the athletes' village after widespread condemnation of its "unhygienic conditions." But while athletes and spectators were safe from harm, the same might not be true for India's image.
The 'worst face' of India
---