Nearly a quarter of Afghanistan election votes disqualified
The Afghanistan election commission said it tossed out almost a quarter of the votes case in Septembers parliamentary election, a sign that fraud remains a major problem.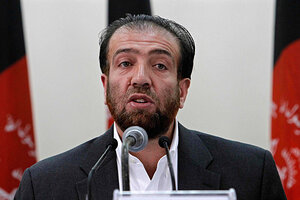 Omar Sobhani/Reuters
Afghans hoping that the parliamentary elections would be more honest than last year's corruption-tainted presidential vote were likely sorely disappointed on Wednesday.
The Afghan election commission announced that it would throw out nearly a quarter of all votes cast in the Sept. 18 parliamentary election, roughly the same percentage of votes invalidated after the 2009 presidential election.
The parliamentary election was the fourth national poll since the fall of the Taliban in 2001. Though many observers contend that creating a functional democracy in Afghanistan will take time, the apparent lack of improvement is causing much frustration.
IN PICTURES: Afghanistan election
"Most educated people in Afghanistan will try to use this election as a lesson and as an experience to create more reforms," says Jandad Spinghar, executive director of the Free and Fair Election Foundation of Afghanistan. "Of course, some Afghan people will be disappointed. This electoral commission had experience from the last [2009 presidential] election. They had to do a better job than last time, but unfortunately they did not."
---