Obama is going to Pakistan. India is not amused.
The announcement Thursday that President Obama would visit Pakistan next year has sapped enthusiasm in India for his visit in early November. The timing of was insensitive to India, critics say.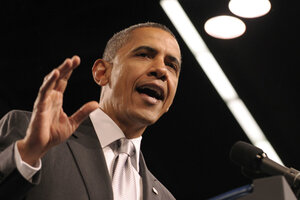 Susan Walsh/AP Photo
The announcement Thursday that President Obama will visit Pakistan in 2011 has further sapped enthusiasm in India for Mr. Obama's visit here next month.
For much of the 20th century, the US pursued a "hyphenated" foreign policy toward India and Pakistan. Washington attempted to balance diplomatic visits and trade deals it offered to one country, considering its relationship to the other. Given the strong military ties between Washington and Islamabad, this resulted in limiting US-India relations.
As India began to emerge economically, Washington began to "de-hyphenate" its South Asian diplomacy. India and the US forged a landmark civilian nuclear trade deal, something not offered to Pakistan, a country with nuclear proliferation in its recent past.
Perception in India
But under Obama, Pakistan has used its leverage over the Afghan war to distract the US from deepening ties with India. The perception in New Delhi is that Pakistan's gambit is working. Analysts here see little momentum behind Obama's India visit, with some worrying that the announcement of his intention to go to Pakistan next year may actually send relations between the US and India backward.
---