China is on path to 'militarization of space'
The Asian space race is moving along slowly, but steadily – and China is in the lead, with technology that could give it a military advantage over the US.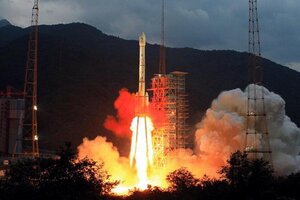 Newscom
China looks set to pull ahead in the Asian space race to the moon, putting a spacecraft into lunar orbit Oct. 6 in a preparatory mission for an unmanned moon landing in two or three years.
Chinese engineers will maneuver the craft into an extremely low orbit, 9.5 miles above the moon's surface, so it can take high-resolution photos of a possible landing site.
Basically, China is looking for a good "parking space" for a moon lander, in a less-known area of the moon known as the Bay of Rainbows.
The mission, called Chang'e 2 after a heroine from Chinese folklore who goes to the moon with a rabbit, highlights China's rapidly growing technological prowess, as well as its keen desire for prestige on the world stage. If successful, it will put China a nose ahead of its Asian rivals with similar lunar ambitions – India and Japan – and signal a challenge to the American post-cold-war domination in space.
The Asian space race
---