Obama, Clinton visit India with wary eye on rising China
President Obama and Secretary of State Clinton are making trips to India and the region in the coming weeks, with an eye toward strengthening alliances to counterbalance China.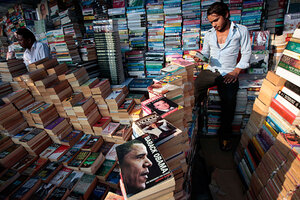 Rajanish Kakade/AP
President Obama and his secretary of state are embarking on Asian trips to build up an insurance policy in case the rising power China ever turns aggressive.
Mr. Obama's first and longest stopover next month will be India, a country that his predecessor touted as a counterbalance to China. The Obama administration initially reversed that talk, but has lately come around to seeing India as a key link in a regional safety net.
Senior US government officials say India has a role to play in East Asia, with one calling India an "East Asian power." They are quick to say they prefer close ties between China and India, and between China and the United States. But as China grows more assertive in its neighborhood, the US is looking to deepen cooperation with and among China's neighbors.
"I think the Americans, probably, and the Indian government sees China as a not-necessarily-hostile state, but a state which could be hostile, whose rise could be threatening. So therefore a policy of reinsurance – diplomatic consultations, military-to-military cooperation – without provoking China is probably the correct policy," Stephen Cohen, a South Asia expert with the Brookings Institute, said at a talk in New Delhi.
---