Deadly bombings in Pakistan target mosques, killing more than 70 worshippers
Two mosque attacks on Friday come amid an increasing number of Taliban attacks targeting the mosques belonging to tribes that resist the militants' influence.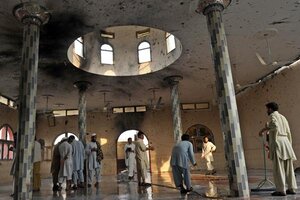 A Majeed/AFP Photo/Newscom
Two deadly bombings today in Pakistan targeted mosques and killed more than 70 worshipers, following an increasingly deadly pattern of Pakistani Taliban attacks on tribes that dare to defy its influence.
In the town of Dara Adam Khel, in Pakistan's northwest territory, a young suicide bomber detonated his load amid 300 worshipers during Friday prayers. He killed at least 67 people and injured more than 100.
On Friday evening, four grenades were hurled inside a mosque in the Suleman Khel village, which is on the outskirts of Khyber tribal region. The blasts killed at least four people.
The bombing in Dara Adam Khel appeared to be targeting the Akhoorwaal tribe because it has been resisting Taliban expansion. Pakistani Taliban claimed the responsibility.
"There is no right for traitors of mujahids and Islam to live," read a message from the Taliban, quoting notorious leader Tariq Afridi. Mr. Afridi is the commander of Tehrik-e-Taliban Pakistan (TTP), which is commonly known as the Pakistani Taliban and is linked with Al Qaeda.
---