India's $5 billion microfinance industry faces backlash over profits
The role of profit-driven companies in India's microfinance industry is raising concerns about its social mission.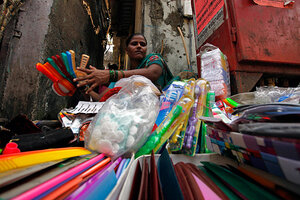 Danish Siddiqui/Reuters
Microfinance, hailed as a silver bullet to uplift the poor, has grown into a $5 billion industry in India. But a political backlash against strong-arm lending by profit-driven companies has left some lenders struggling to stay afloat, raising questions about the industry's rapid expansion and the dilution of its social mission.
Industry associations warn of a liquidity crisis comparable to the US credit crunch in 2008 as banks cut off credit lines to microfinance institutions (MFI) that depend on outside funding. An industry lobby group said Tuesday that lenders were seeking $221 million in emergency loans, according to Bloomberg News.
Other lenders are less exposed. Some collect deposits and make loans within poor communities – a model known as "self-help" groups – though these groups also borrow from banks to increase their pool of capital. Mohammad Yunus, founder of Grameen Bank and Nobel Peace Prize laureate, pioneered this model in Bangladesh.
---