Afghanistan shifts from reconciliation after Taliban impostor revealed
The revelation that NATO and members of the Afghanistan government may have been negotiating with a Taliban impostor has dealt a blow to peace talks.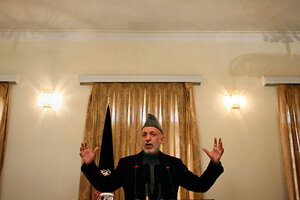 Musadeq Sadeq/AP
After a man some officials believe to be simply a Pakistani shopkeeper duped NATO and members of the Afghan government into thinking he was one a top Taliban leader, the focus in Afghanistan is shifting from reconciliation and back to the mechanics of the war.
Speaking to reporters on Tuesday morning, the day news of the Taliban impostor broke, Afghanistan's President Hamid Karzai was less interested in talking about meetings with the Taliban and more focused on what the NATO summit in Lisbon meant for his country.
Indeed, there remain serious questions about the legitimacy of talks with the Taliban following the revelation that NATO and Afghan officials had actually been dealing with a fake.
---