Richard Holbrooke often struggled to be heard on Pakistan and Afghanistan
Richard Holbrooke's struggle to be heard amid competing US voices in the region has some suggesting that the office of special envoy should be shut down.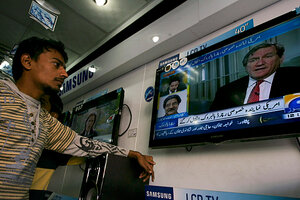 Fareed Khan/AP
Richard Holbrooke posed tough criticisms internally of US policy in Afghanistan, and expressed a strong desire for ending the war in his final days in the hospital. During his tenure as President Obama's special envoy to Afghanistan and Pakistan, he challenged US military projections for the Afghan security forces, and became a forceful advocate for civilian rule and cleaner government in the region.
 
But despite his reputation as a heavyweight in US diplomacy going back to the Vietnam War, Mr. Holbrooke struggled with a cacophony of voices dealing with Afghanistan and Pakistan.
Now that he's gone, some in the region say it's time to scrap the envoy role altogether and instead channel US communications within the region through fewer players.
In particular, some suggest, if Secretary of State Hillary Clinton chose to engage in the region, she would have the authority to better coordinate her pair of well-regarded ambassadors in Islamabad and Kabul as well as US military outreach.
---