Rush for results in Afghanistan may undermine aid goals
Concern is increasing among the international development specialists that the rush for results in Afghanistan actually encourages cumbersome rules that take a long time to implement.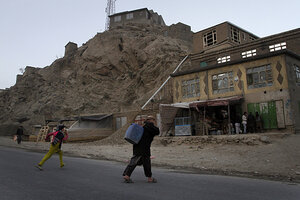 Musadeq Sadeq/AP/File
Kabul's five-star Serena Hotel is known as one of the city's most luxurious escapes from the daily grind of Afghanistan's gritty capital. Home to the Kabul's first day spa, complete with a heated swimming pool, the heavily fortified hotel that's been a repeated target of insurgent attacks bills itself as "an oasis of cool and serenity in the heart of the city."
For five months last year, the Serena was also the headquarters for a U.S. consulting firm with no experience in Afghanistan that the U.S. government is paying $15 million to boost Afghans' confidence in their antiquated justice system.
"It was something of a risk to bring them out here," said a U.S. official involved in the program, who was authorized to talk about the issue only on the condition of anonymity.
"They had not, unlike some other contractors, worked out here previously," the official said. "So when they were selected we said, 'OK, we'll see.' "
So far, experts said, it's been a risky gamble with questionable results.
While encamped at the Serena, the Tetra Tech DPK consultants were criticized for their extended hotel stay, for organizing kite-flying events meant to promote confidence in the legal system and for producing little that American officials could trumpet as successes.
Along with fighting the Taliban and training an Afghan military capable of protecting its nation, building a respected government is a central goal of the Obama administration's plans to begin withdrawing U.S. forces this July.
---