Afghanistan poppy production could skyrocket due to spike in prices, drought
Afghanistan poppy farmers see 'cash bonanza' due to price spike, says United Nations, forewarning of increased planting of the opium-producing crop that pads insurgents' wallets.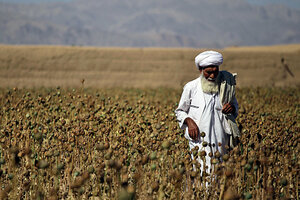 Julie Jacobson/AP/File
Monitors are warning that 2011 may see a surge in Afghanistan's poppy production as high prices at the farm gate, coupled with a crippling drought that has ravaged wheat production, provide powerful incentives for farmers to grow the outlawed crop.
While poppy provides Afghan farmers some security net from war and drought, money from the trafficking helps finance insurgents and fuel corruption inside the government. The colorful plant's sap is used to make narcotics such as opium and heroin.
Afghan farmers planted the same amount of poppy in 2010 as the previous year, but the United Nations raised concerns this week that rising poppy prices will push up production in 2011. The farm-gate price of dry opium jumped 164 percent in 2010.
"We cannot continue business as usual," Yuri Fedotov, executive director of the UN Office on Drugs and Crime (UNODC), said in a statement accompanying the Jan. 20 release of his office's 2010 opium survey. "If this cash bonanza lasts, it could effectively reverse the hard-won gains of recent years."
Prices spike, but only in Afghanistan
Cultivation of poppy has fallen by a third since the highpoint of 2007, driven partly by declining prices from 2005 to 2009. Those years also saw international spending to boost licit agriculture and markets, changes in the security landscape, as well as a temporary – and controversial – spike in eradication efforts in 2006 and 2007. As such, Afghanistan's share of the global opium supply dropped to 80 percent in 2009 from 90 percent in 2008.
---