Could there be a liberal resurgence in Pakistan? Lawmaker Sherry Rehman says she's working on it.
A liberal resurgence in Pakistan may not be as unlikely as it might seem, according to Sherry Rehman, a progressive parliamentarian who is attempting to amend the country's blasphemy laws.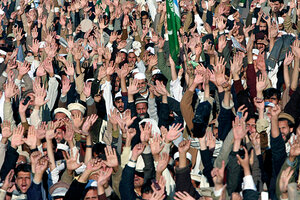 Mohammad Sajjad/AP
Liberal Pakistani lawmaker Sherry Rehman left a comfortable life researching a book in London to fight for liberty in her homeland. Now she's under siege, confined to her Karachi home ever since the assassination of liberal icon Salman Taseer three weeks ago.
Rehman and the former governor of Punjab Province both opposed Pakistan's blasphemy law, which makes derogatory remarks toward Islam a capital offense. Both claimed the law is used to carry out vendettas against minorities such as Christians and Ahmadi Muslims. In the eyes of Pakistan's religious political parties, known here as the "religious right," the fact that she attempted to even blunt the law is enough to prompt death threats. In Taseer's case, it led to his killing.
"They've [got] a bullet with my name on it, I'm told," she says wearily.
These are gloomy times for Pakistan's liberals, many who worry that their nation has been lost to demagoguery. The general public appears passive and even sympathetic toward zealots with an increasingly narrow interpretation of Islam. "The silent majority does not want to take out a gun and shoot anyone, but at the same time they're not appalled by it when somebody else does," said commentator Fasi Zaka shortly after Taseer's killing.
---