What Salman Taseer's assassination could mean for Pakistan
The outpouring of praise for the killer of Salman Taseer, the former governor of Punjab who was assassinated in Islamabad Tuesday, is intensifying concerns in Pakistan about deeply rooted religious intolerance.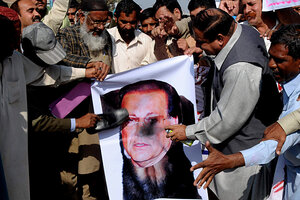 Khalid Tanveer/AP/File
Hundreds of Pakistan's leading clerics have signed a statement condoning the killing of a powerful politician who opposed the country's blasphemy laws. Those laws recently led to a Christian woman being sentenced to death for allegedly insulting the prophet Muhammad.
Experts believe the outpouring of praise for the killer of Salman Taseer, the former governor of Punjab who was slain by his own security detail in Islamabad on Tuesday, reflects deep support for religious intolerance and will have a chilling effect on reform-minded public figures.
"It's highly dangerous for these religious scholars to say things that do not fit into the legal context of [an] issue. Are they saying Taseer was guilty of blasphemy simply by criticizing a law? In that case, hundreds of thousands are guilty. This is a clear incitement to violence," says Badar Alam, editor of Pakistan's Herald magazine and an expert on Islamist groups.
Taseer spoke out
According to the statement issued by the Jamaat Ahle Sunnat Pakistan (JASP) body of Barelwi sect religious scholars, Governor Taseer's critique of blasphemy laws made him responsible for his own death.
"We pay rich tributes and salute the bravery, valour, and faith of Mumtaz Qadri," the statement adds, referring to the alleged killer. The Pakistan daily Dawn reported that the alleged killer, Malik Mutaz Qadri, is also a member of the Barelwi sect, which could explain the strong support from a school of Islam that has often spoken out against militancy.
---
Follow Stories Like This
Get the Monitor stories you care about delivered to your inbox.