How the Raymond Davis case could strain US-Pakistan ties even further
The gulf in how the US and Pakistan view the murder case against CIA operative Raymond Davis has the potential to make the diplomatic spat get even uglier.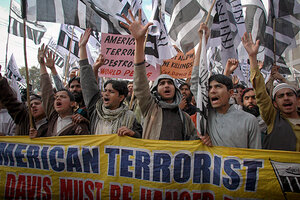 Hamza Ahmed/AP
Many Pakistanis see the US push for the return of CIA agent Raymond Davis – who killed two men at a traffic stop in the city of Lahore – as the antics of a superpower throwing around its weight.
US experts in international relations, on the other hand, see the US standing up for international norms, and Pakistan flouting them. Given the gulf in how the two sides appear to be thinking about this, the issue has the potential to get uglier.
"Any other diplomat in the world that was in this position would have his or her government equally up in arms," says Christine Fair, a South Asia expert at Georgetown University in Washington. "This is not American exceptionalism, this is the Vienna Convention."
The Vienna Conventions spell out the details of diplomatic immunity. In broad terms, diplomats cannot be prosecuted under host country laws unless the home country waives their immunity. While the US has a history of declining some international treaties, in this case Washington appears to be championing a foundational rule of the international system.
---