China dismisses Dalai Lama's move to step down as a 'trick'
The Dalai Lama said on Thursday he would step down as political leader of the Tibetan exile movement. But China still appears unwilling to make concessions to exile leaders.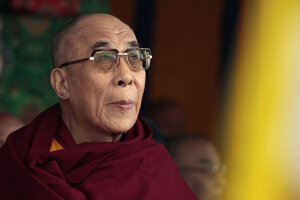 Ashwini Bhatia/AP
The Dalai Lama announced Thursday he would step down from the political leadership of Tibetans in exile, saying he would hand his temporal authority over Tibetan affairs to an elected leader.
While the decision reflects his longstanding desire to retire from politics, some observers wondered how meaningful such a move would be. It also casts new doubt about the future of stalled talks between Beijing and the Tibetan exile government.
"The Dalai Lama is just too towering a figure to retire from a political role," says Tim Johnson, a journalist and author who specializes in Tibet. "The struggle for greater freedom for Tibetans is embodied in his persona."
In a statement marking the 52-year anniversary of an unsuccessful Tibetan uprising against Chinese rule that led to the Dalai Lama's flight to India 1959, the Nobel Peace Prize winner said his "desire to devolve authority has nothing to do with a wish to shirk responsibility."
Rather, he explained, "Tibetans need a leader, elected freely by the Tibetan people, to whom I can devolve power. It is to benefit Tibetans in the long run."
The move, which will not change the Dalai Lama's role as Tibetan spiritual leader, "is aimed at empowering whomever Tibetans in exile elect later this month as their prime minister," says Mr. Johnson, who recently published a book about the Dalai Lama titled "Tragedy in Crimson: How the Dalai Lama Conquered the World but Lost the Battle With China."
Who will lead next?
The next prime minister, however, will not only be unknown to the outside world, he will likely be unknown beyond the 150,000 strong community of Tibetan exiles who will have the right to vote in the elections.
---