Dalai Lama to China: Follow me on Twitter
(Read article summary)
The Dalai Lama held a live Twitter conversation on Friday, reaching out those living in China.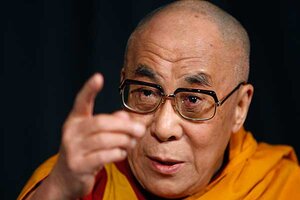 Seth Wenig/AP
The Dalai Lama is on Twitter, and he's taking questions.
Or he was, at least. For 90 minutes today, the spiritual leader of Tibet, who joined the social networking site in February, held an online conversation with the aim of reaching people inside China via Twitter. To post the conversation, the Dalai Lama used the Twitter feed of a Chinese writer and convert to Tibetan Buddhism named Wang Lixiong during a meeting between the two men at a hotel in New York City. Wang's Twitter account had more than 8,000 followers as of Friday.
Out of the more than 1,200 questions submitted to the Dalai Lama, he answered almost 300 and didn't shy away from talking about the fate of Tibet.
"The government made these tensions, not the people," he tweeted through a Chinese interpreter, according to the Associated Press.
The Dalai Lama criticized China's policies in Tibet and tweeted kind words to Chinese citizens, AP reports. The dialogue touched on everything from politics to his eventual successor.
This was the first such attempt to reach out via Twitter to Chinese citizens. It's not clear how many people inside China read his comments because Twitter is blocked in China, but unofficial estimates put the number of registered Twitter users in China at 150,000.
---
Follow Stories Like This
Get the Monitor stories you care about delivered to your inbox.