Tibetan exiles elect Harvard lawyer to take over Dalai Lama's political role
A Harvard fellow was elected head of Tibet's government-in-exile on Wednesday, and is slated to take over the Dalai Lama's political role this summer.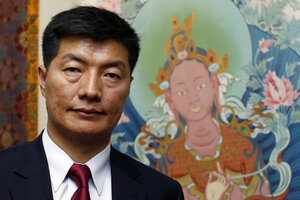 Kevin Lamarque/Reuters
A young Harvard scholar was today elected prime minister of Tibet's government-in-exile and is expected to take over the Dalai Lama's political duties this summer, signaling a new generation of leadership and the community's desire for a more hardline approach to China.
Lobsang Sangay beat out his two rival candidates with 55 percent of the vote in the March 20 election, officials announced Wednesday in Dharamsala, the de facto capital of Tibetan exiles. About 59 percent of some eligible 89,000 voters spread over 30 countries cast a ballot.
"I urge every Tibetan and friends of Tibet to join me in our common cause to alleviate the suffering of Tibetans in occupied Tibet and to return His Holiness [the Dalai Lama] to his rightful place in the Potala Palace," Dr. Sangay said in a statement on the exile government's website.
The Dalai Lama announced earlier this year that he would give up his political role, saying it was time for elected leadership in the Tibetan community. While China dismissed the announcement as a "trick," the election of a new prime minister shows the seriousness of the Dalai Lama's intent to hand over his political responsibilities to a new generation. The spiritual leader of Tibet has handled all political matters since 1959, when he fled to India and established a government-in-exile in the Himalayan town of Dharamsala.
---