Can US and Taliban cut a deal in Afghanistan?
Even before Osama bin Laden's killing, the Taliban were softening their image while the US, Pakistan, and Afghanistan set the stage for talks. Now the US must decide if it's worth years of further military and diplomatic effort to hammer out an agreement.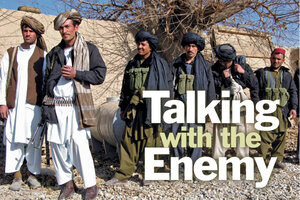 Reuters photo/John Kehe staff illustration
Kabul, Afghanistan; and Islamabad, Pakistan
Muhammad Hassan Haqyar once sat close to the heart of Afghan power, wielding influence as an administrator in the Ministry of Mines during the Taliban years. The government in those days was filled with illiterate bumpkins better versed in an uncompromising interpretation of Islam than the nuances of statecraft.
But Mr. Haqyar was different. A religious scholar, he was an expert on Islam and disagreed with certain Taliban dictates. He even wrote a book arguing that Islam promoted girls' education – though he cautiously published it under a pseudonym. When a Taliban superior found out about it, he summoned him for questioning.
"He told me to come talk and he said, 'We are not against women's education,' " recounts Haqyar. " 'We just don't have the resources.' "
As implausible as it may sound, the assertion that the Taliban, then and now, aren't against women's education is being floated by a growing number of Taliban members and sympathizers in Afghanistan and Pakistan. Nor does the revisionist history stop at girls' schooling. Some Taliban members argue that they were misunderstood about Osama bin Laden, too. They would have handed him over to the United States – eventually.
It is all part of what appears to be a charm offensive by some elements of the Taliban – a concerted effort to soften their image in what may be a precursor to a possible political breakthrough 10 years after the advent of war.
---