Pakistan braces for Indian pressure in wake of blasts in Mumbai
Regardless of who's responsible for the recent blasts in Mumbai, Pakistan is now in the spotlight for its weak efforts with Lashkar-e-Taiba, the Pakistan-based terror group blamed for the 2008 attacks.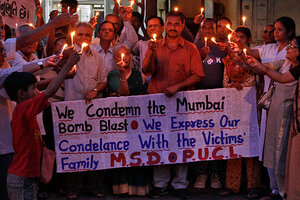 Amit Dave/Reuters
Wednesday's triple-bomb attack on Mumbai has Pakistan bracing for renewed attention and has put a spotlight on the fact that leaders of Lashkar-e-Taiba (LeT), the Pakistan-based terror group blamed for the 2008 attacks, remain free.
Though no one has yet claimed responsibility for the new series of blasts, there is some speculation the home grown Indian Mujahideen, who have ties with the LeT, are involved.
Analysts blame a systematic failure on the part of police and prosecution to make criminal charges stick. Analysts also blame a government too weak to deal with terror organizations.
"The basic problem is evidence collection and investigating terrorism. And another basic problem is political will – there are some political sectarian and ethnic reasons that allow the government to release people without trying them effectively or keeping them in jail without a trial," says Badar Alam, editor of Pakistan's Herald magazine.
The trial of Zaki ur Rehman Lakhwi, founder of the Laskhar-e-Taiba and other senior members of the group continues to flounder more than two years after it began. And Hafiz Muhammad Saeed, head of Jamat-ud-Dawah (the organization's charitable wing) who was named in a list of India's 50-most wanted fugitives, remains free in his Lahore home.
Since Mr. Lakhwi's trial began in March 2009, it has been beset by numerous unforeseen adjournments, for reasons ranging from the judge's absence to the validity of the defense lawyer's law degree being brought into question. The trial descended to what observers called farcical levels for several months last year, when it was held up because India unsurprisingly refused a Pakistani court's request to send Ajmal Kassab, the lone surviving gunman from the attack to Pakistan to testify.
---