Kashmiris respond to arrest of alleged secret agent in Washington
The arrest of Syed Ghulam Nabi Fai on spy charges in the US has highlighted a generation divide among Kashmiri separatist activists.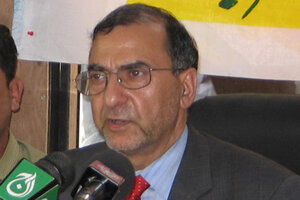 Roshan Mughal/AP
Elder Kashmiri separatist leaders are condemning the arrest of a Kashmiri lobbyist in Washington and are calling for demonstrations.
Tuesday the FBI arrested Syed Ghulam Nabi Fai on spy charges, alleging that he received instructions and at least half-a-million dollars a year from Pakistan's spy agency, the ISI.
Mr. Fai's arrest is unlikely to have much impact on the Kashmiri struggle for independence from India. Young people protesting through street demonstrations, Facebook, and pop culture are providing the movement's momentum now, not the kind of foreign lobbying work done by Fai.
Fai belongs to an older generation of Kashmiri activists who are deeply enmeshed in the power politics of the region. Such elders are respected but not necessarily followed by young Kashmiris, whose tactics have actually forced India and the outside world to take a second look at the decades-old dispute.
"I believe that the kind of work that Fai was doing belongs to a different time," says Sanjay Kak, a Kashmiri filmmaker and editor of the new book "Until My Freedom Has Come: The New Intifada in Kashmir." Fai's work mostly consisted of organizing conferences, lobbying Congress, and connecting opinion makers on Kashmir.
---