As US troops begin drawdown in Afghanistan, violence threatens Pakistan border
Pakistan has responded to US demands to rout militants from the mountainous border with Afghanistan. Now Pakistan's gains are now being undermined by Taliban attacks.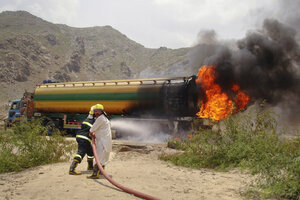 Shahid Shinwari/Reuters
Ghakey Pass, Pakistan-Afghanistan border
Six months after NATO forces began a troop reduction from the Kunar Province in eastern Afghanistan, a series of cross-border raids by Taliban from the Afghan territory threaten tentative Pakistan Army gains.
Earlier this month, two people were killed and five others injured following a mortar shelling and incursion that originated from Afghanistan. Also, dozens of militants, mainly Pakistani, entered Bajaur from Kunar in a predawn attack, killing one paramilitary and injuring another.
In Bajaur, where a Pakistan Army operation that began in 2009 has cleared most militants from the area, the raids are threatening a tentative peace, say residents and officials. As US troops undergo a phased withdrawal from the region ahead of 2014, analysts expect violence to once more grip the volatile border regions.
"The governments of the two countries must find a way to stop these incursions. Then the dead bodies will stop appearing," says Shahabuddin Khan, leader of the Salarzai Lashkar, a group of minutemen, who have lost more than 140 of their elders at the hands of Taliban attacks.
---