Kandahar mayor killed by suicide bomber, latest in wave of assassinations
Kandahar's Mayor Ghulam Haider Hamidi is the latest victim in a wave of assassinations of high-profile Afghan government officials that has many Afghans worried about a leadership void.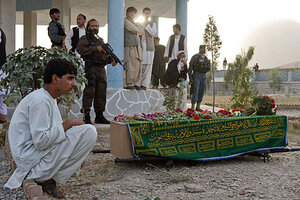 Ahmad Nadeem/Reuters
A suicide bomber killed the mayor of Kandahar at the municipality building on Wednesday. The most recent killing in a string of high-level assassinations, it has added to concern about leadership deficit in an area that remains fragile despite recent security gains.
The bomber entered the municipality building with a group of villagers who had come to speak with Mayor Ghulam Haider Hamidi about the demolition of homes built illegally on government land. When the mayor greeted the group, the suicide attacker detonated a bomb hidden inside his turban.
Although the government and NATO-led forces say they are making progress against the militant organization, the ability of killers to reach high-level officials in their homes and offices has shaken many Afghans' faith in the government.
The Taliban has claimed responsibility for the assassination, calling it part of their campaign to kill government officials this summer – although it remains unclear how many of the recent murders they actually conducted.
The loss of Mr. Hamidi, who spoke with the Monitor less than 24 hours before his death, is likely to take a hard toll on southern Afghanistan. He is the third official to be murdered in Kandahar in as many months and he is remembered by many to have been one of the region's most honest political brokers.
"I'm here to work for Kandahar City. I owe this city because I grew up here, I was educated here, I ate from here, I had good times here, and I'm here to pay back the loan to my city," said Mr. Hamidi on Tuesday afternoon.
String of assassinations
In April Gen. Khan Mohammad Mujahid, police chief of the province, was killed by a suicide bomber in the city's central police compound.
---