Anna Hazare: India's anticorruption activist wins right to fast in public
Anna Hazare defied an initial ruling restricting him to a three-day protest and is now allowed 15 days. But critics argue he and his supporters should press their demands through the ballot box.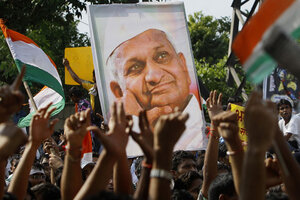 Gurinder Osan/AP
Under pressure by growing crowds of protesters, the Indian government struck a deal Thursday with anticorruption campaigner Anna Hazare that allows him to publicly fast in New Delhi for 15 days.
Police initially tried to restrict Mr. Hazare to a three-day demonstration at a small venue. Mr. Hazare defied the restrictions and was brought to Tihar jail. He then refused to leave until many of the original protest restrictions were eased.
With the protest over the right to protest out of the way, the agitation now moves to the main event: Hazare's hunger strike. By refusing food, Hazare aims to pressure the government to adopt a stronger anticorruption bill than the one currently before Parliament.
Government supporters have called the fast a form of "blackmail" and a subversion of representative democracy. But this has largely failed to convince the public, due to the historical respect here for civil disobedience, anger over a string of corruption scandals, and a percolating discontent with the current democratic setup.
"There are two sources of power. One is the state, the other is the renouncer [who] has moral power," says historian Harbans Mukhia. "History is a conflict between these two kinds of powers."
Debate over legitimacy of civil disobedience
India owes its independence to Mahatma Gandhi's nonviolent tactics – including hunger strikes – against British state power. However, the drafter of the country's constitution, B.R. Ambedkar, argued in 1949 against civil disobedience in independent, democratic India.
---