Karzai to end Taliban peace talks, focus on Pakistan ties
But will the Afghan president's new drive to negotiate more with Pakistan achieve better results than the Taliban peace talks?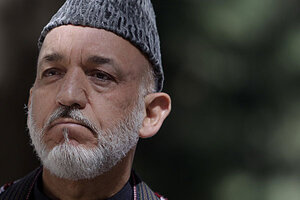 Kamran Jebreili/AP
In a move that will likely bring a dramatic shift to the direction of peace talks in Afghanistan, President Hamid Karzai has announced that he will stop talks with the Taliban and focus efforts on Pakistan.
The status of peace talks have been uncertain since a suicide bomber killed the head of Mr. Karzai's High Peace Council, former President Burhanuddin Rabbani, less than two weeks ago.
Though the Taliban have not claimed responsibility for the killing, the assassination raised questions about the insurgency's willingness to engage in peace talks.
Karzai's announcement that the Afghan government will now focus negotiation efforts on Pakistan comes as an acknowledgement that previous peace talks were not working. But many observers say that they worry the president's new push to involve Pakistan more may not achieve better results.
---