Loya jirga: Afghans question Karzai's motives in calling the meeting
Afghan President Karzai has summoned more than 2,000 leaders to a loya jirga to consult on relations with the US and the Taliban. Some question if he is trying to bypass parliament.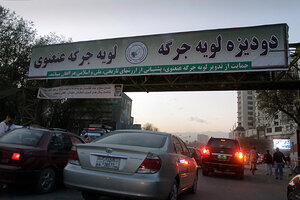 Musadeq Sadeq/AP
When more than 2,000 Afghan leaders gather for a high profile four-day meeting Wednesday to discuss the future of relations with the US and negotiations with the Taliban, much of the nation will be watching to see what direction their elders take.
The meetings like this one called loya jirgas, or grand assemblies, are seen as an important part of Afghan political life, where leaders from all over the country gather to decide on critical issues.
But after 10 years of democracy building, many Afghans are asking why a loya jirga is still necessary.
"At the present time there is no need to have a loya jirga since you have the parliament and the representatives are selected by the people," says Wagma Sapai, a member of parliament from Kunar Province. "If there is any need to make a decision, the president should consult with the parliament about the issue," Mr. Sapai says, adding; "All the conferences that have been conducted in Kabul have not brought any change. This will just be a political exhibition."
Loya jirgas are not a regular part of Afghan political culture: Fewer than 20 have been held in the past 300 years. The meetings are designed to discuss only one or two major issues during times of instability. Those held over the past decade have focused on issues such as choosing a transitional government after the fall of the Taliban and approving a new constitution. More recently, they have yielded little in the way of measurable results.
This week's loya jirga is considered a consultative meeting and participants will review the two main issues – Afghan-US relations and talks with the insurgents. At its close, leaders are expected to pass their recommendations to the president and the parliament.
---