Afghanistan 'loya jirga' endorses lingering US presence, but in what form?
In the wake of the latest Afghanistan 'loya jirga,' the challenge will be finding a way to make a strategic bilateral partnership mutually agreeable to both Afghans and the US.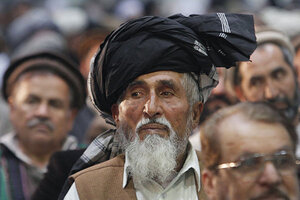 Musadeq Sadeq/AP
A day after nearly 2,000 Afghan elders concluded a 4-day loya jirga -- or grand assembly -- with a near unanimous decision to endorse a strategic agreement the US, hundreds of demonstrators took to the streets in the east of Afghanistan in protest.
Despite the student protest, where demonstrators said they feared such an agreement would create a never-ending American presence here, the loya jirga's proposal has found widespread support throughout Afghanistan.
Among many Afghans there is an increasing realization that long-term stability will likely require American and international support for some years to come. While there is much weariness about the foreign presence here, many Afghans acknowledge that without it much needed support will evaporate. The challenge now is finding a way to make that presence mutually agreeable to Afghans and the US.
"Our people know they are vulnerable and know they need a strong partnership with the superpower in the world. They definitely realize the location of their country and they get all their problems from the neighborhood, from the region. That's why they thought it's for their benefit and the mutual benefit of the people of Afghanistan and the people of the United States," says Hameed Farouqi, a representative at the loya jirga and a professor of economics at Kabul University.
US forces beyond 2014?
Although the loya jirga endorsed peace talks with the insurgency, the meeting was mostly focused on the strategic agreement with the US. The representatives stipulated a number of terms necessary for an agreement that would potentially allow US forces to stay beyond 2014 when all combat forces are required to leave the country.
Among the conditions laid out by the loya jirga, the representatives called for an end to night raids and housing searches, the closure of US and foreign operated prisons, and for Americans who commit crimes here to be held accountable in Afghan courts.
---