Afghans see Pakistan boycott as dooming Bonn Conference
Pakistan's prime minister rejected a personal plea from the Afghan president to attend the Bonn Conference, following a NATO airstrike on a Pakistani border post.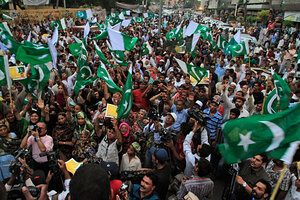 Shakil Adil/AP
As leaders in Afghanistan and the US plead with Pakistan to reconsider its decision to boycott an upcoming international conference following a NATO airstrike that killed at least 24 Pakistani soldiers, analysts are concerned that Pakistan's absence may spell the end of the Afghan peace process.
"The participation of Pakistan was important in the Bonn Conference because the countries who are involved in the conference wanted to talk to Pakistan about negotiations and peace in Afghanistan," says Sharifullah Kamawal, a member of parliament from Kabul. "Since Pakistan is not there now, there won't be that much progress with the negotiations with the Taliban and bringing peace to Afghanistan."
Ten years after the first Bonn Conference, many hoped round two on Dec. 5 would address serious issues about Afghanistan's future, which is strongly tied to Pakistan. With numerous insurgent havens, Pakistan is seen as a potentially critical interlocutor in any talks with the insurgency.
---