Karzai blames NATO and Afghan officials for allowing Kabul attacks
Afghan President Hamid Karzai criticized 'intelligence failures' by his own government but especially faulted NATO for a series of tightly coordinated insurgent attacks that rocked Kabul.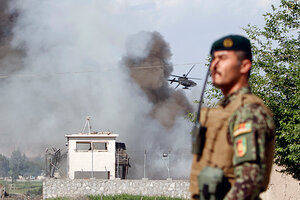 Rahmat Gul/AP
After the militant-led assault on Kabul ended this morning, Afghanistan President Hamid Karzai criticized Afghan and NATO authorities for allowing the attacks to occur.
As attacks like Sunday's stymie NATO and Afghan government claims that they are making progress against the insurgency and erode confidence in the government, there is increasing pressure to determine why high-profile attacks continue to happen in Kabul and who is responsible.
The 17-hour Kabul attacks have led some to worry that the fighting is just a sample of what is to come this summer and has raised questions about whether the Afghan government or international troops can do much to stop such incidents.
Most fighting here occurs in the provinces outside the capital city. Kabul, meanwhile, is generally considered as something of a "security bubble." During the past year, however, Kabul has seen several high-profile attacks, including the assault on the US embassy in September and the Intercontinental Hotel in June.
"Even though yesterday's attacks didn't harm many foreign or Afghan forces, the insurgents wanted to show that they are stronger and can reach any spot with organized, complex attacks," says Noor-ul-haq Ulumi, a former Afghan Army general.
Sunday's fighting marked one of the most complicated attacks on the capital in recent memory. Insurgents struck throughout Kabul and in the eastern provinces of Nangarhar, Logar, and Paktia, killing 11 Afghan security forces and 4 civilians. Forty-two Afghan security forces were also injured along with 32 civilians. All 36 insurgents involved in the attack were killed and one more was arrested, according to police.
---