US, Afghanistan agree in private to long-term partnership
Without making the details public, US and Afghan officials announced on Sunday that they both endorsed a final draft of a new strategic partnership.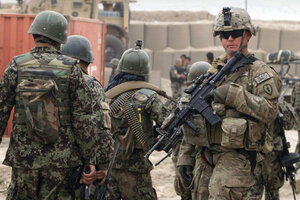 Allauddin Khan/AP
American and Afghan officials announced on Sunday that they both endorsed a final draft of the strategic partnership agreement that will outline the US commitment here for at least a decade after the 2014 deadline to transition all security to local forces.
Officials have been working on the agreement for a year and a half. US officials say that President Hamid Karzai and President Barack Obama hope to sign the agreement before the NATO summit on Afghanistan takes place in Chicago on May 20.
The details of the agreement have yet to be released, but it represents an important commitment for Afghans who have expressed concern that the US will drop support after their withdrawal, as happened after the Soviet war here.
With the details of the agreement still unknown outside palace and diplomatic circles, there remains some frustration among Afghans that such an important agreement has been withheld from public view this far into the negotiation process.
"The most important strategic agreement for Afghanistan is the one with the United States. It's important that it's communicated to the people clearly, so the people will feel that this agreement protects them, that this agreement is for their well-being and the sustainable stability in Afghanistan, not to protect politicians, warlords, druglords, and mafiosos," says Daoud Sultanzoy, a former member of parliament from Ghazni. "This strategic agreement should be something that's cornerstone is good governance, rule of law, and a pluralistic Afghanistan."
Afghanistan's National Security Adviser Rangin Dadfar Spanta and US Ambassador Ryan Crocker initialed a draft of the agreement on Sunday. Now the agreement will face internal review from both sides, which will likely include review from both nations' lawmakers.
---