Afghanistan after the US: What's next?
Challenges in Wardak Province, west of Kabul, are a mirror of those the Afghan government will face as US and NATO pull back from reconstruction and aid funding in the next two years.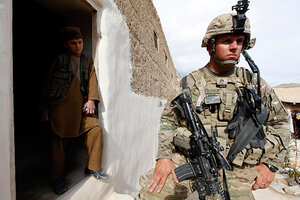 Umit Bektas/Reuters/File
Maidan Shahr, Afghanistan
A major question at the NATO summit in Chicago this weekend: How will Afghanistan – and its government – fare after US troops leave?
The answer is likely to come from the Afghan countryside. About three-quarters of the population live in rural areas, far removed from the international talks and meetings about its future. Just how local governments tackle security and development, and adapt to impending financial shortages, could determine how Afghans see the value of a centralized government – and ultimately determine whether Afghanistan can attain stability and development.
In Wardak Province, just west of Kabul, the ubiquitous challenges that plague Afghanistan are playing out. But so too are successes. The province has seen progress under Gov. Mohammad Halim Fidai. "I'm very confident and hopeful that with investment in human capital, education, natural resources – like mines and agriculture – that will be a big step to bring more investment and help so Afghanistan can stand on its own two feet and not have to ask for a penny from any other country," he says.
Like most issues in Afghanistan, there is no way to definitely demonstrate whether a region like Wardak is moving forward or backward. But Governor Fidai's daily schedule serves a reminder of progress.
In the course of two days recently, he cut two ceremonial ribbons to inaugurate a public park and youth center and scoped the first shovel of dirt at the ground breaking of a water-shed management project.
After less than four years as governor, he's seen Afghan security forces in his province grow from just 900 to 3,900. He estimates that he's overseen more than $1 billion in development spending and he's found ways to steadily increase tax revenues. His province also saw a 25 percent reduction of insurgent attacks last year.
---