Who will lead Afghanistan after Karzai?
Afghanistan's next presidential elections are scheduled for 2014. However, President Hamid Karzai recently announced that he may call elections a year earlier.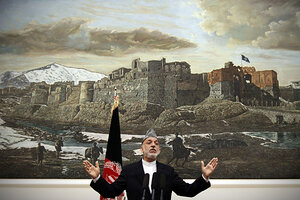 Ahmad Jamshid/AP
As US and NATO forces hand over security responsibilities in Afghanistan to the country's own forces, political parties and presidential hopefuls are preparing for what could be the most pivotal presidential elections in Afghan history.
Although a successful security handover hinges on an effective political transition from the current administration of Afghan President Hamid Karzai to a new leadership, Afghan leaders inside and outside of the government say Mr. Karzai hasn't done enough to set up a political system that will support a new president.
"For example, [Karzai] didn't encourage a young generation of Afghan leaders to emerge. He didn't support the development of strong multiethnic political groups or parties, nor did he form his own party, which leads one to believe that he had a political agenda and did not want to build the political capacity of the country," says Hamidullah Farooqi, spokesperson for the Truth and Justice Party and former minister of transport and civil aviation under Karzai.
Political analysts say Karzai is taking advantage of the weaknesses in the system and in the fragile state of the country to ensure that he will retain power for years to come in some form.
Afghanistan's next presidential elections are scheduled for the spring of 2014. However, Karzai announced in April that he was discussing with his cabinet the prospect of calling the elections a year early to ensure that the elections are safeguarded by the presence of international military forces.
Karzai's influence over who's next
---