Q&A with Ahmed Rashid: What's going on with Pakistan's prime minister?
Pakistani analyst Ahmed Rashid helps unpack the sudden dismissal of Pakistani Prime Minister Yousuf Raza Gilani, and what it could mean for Pakistani democracy and US relations.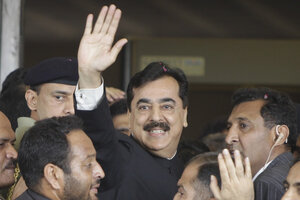 B.K. Bangash/AP
Pakistan's Supreme Court ruled that Prime Minister Yousuf Raza Gilani was "disqualified" from holding office two months after finding him guilty of contempt of court today.
Mr. Gilani had defied a court order to reopen a corruption case against President Asif Ali Zardari, who belongs to the same political party as Gilani. This means that Pakistan effectively has no prime minister.
The Monitor called up veteran political analyst Ahmed Rashid, author of "The Taliban," to ask him what this means and what the effects could be for Pakistan and its allies, including the United States.
What just happened?
Prime Minister Gilani has been removed from office by the Supreme Court, and he will step down.
It now depends on President [Ali] Zardari to name a successor. The PPP [Pakistan People's Party] has accepted that Gilani will step down, and tomorrow Mr. Zardari will appoint a new prime minister from the PPP. He will then be elected by the party as the new prime minister.
In the short term, the crisis will be resolved quite soon. But in the long term, the situation remains quite serious. There are huge questions of whether the court has the legal justification to overthrow a sitting government in this manner. We could be faced with the consequences of this for years to come. If Zardari agrees with this process, he could become vulnerable himself to corruption charges.
How might this get resolved: with new elections? With a replacement appointee?
There will be enormous pressure for Zardari to call early elections. Elections were scheduled for spring of next year, but there may be pressure to bring them [at] the end of this year.
---