Dalai Lama visits Kashmir, a disputed land like Tibet
The Tibetan spiritual leader urged Kashmiris to follow the path of nonviolence only. Some Kashmiris questioned if it was the government that needed the message.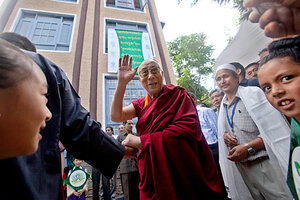 Dar Yasin/AP
Srinagar, Indian-controlled Kashmir
After a gap of 24 years, the Dalai Lama is visiting the Kashmir Valley – a region, as with the Tibetan spiritual leader's homeland, where many yearn for independence.
The Dalai Lama spoke about the futility of violence and, as with Tibet, urged people to follow the path of nonviolence, a message that some here argued was misdirected.
"Violence will lead nowhere," the Dalai Lama told school children in Srinagar's Tibetan colony. "Differences and disagreements should be resolved through dialogue. Violence can solve nothing; instead, it can create more problems."
Kashmir, one of the oldest remaining conflicts in the world, saw a violent armed resistance to Indian rule in the 1990s. Hundreds of thousands of Indian security forces ultimately put down the insurgency, but most of the forces have stayed on.
Over the past decade, most independence-minded Kashmiris have opted for nonviolence after seeing the ravages of war and fearing a "terrorist" label from the West after 9/11. An Indian Army officer told the press today that only about 280 to 300 militants are present across the predominantly-Muslim Kashmir Valley. The conflict in Kashmir has made a transition to more nonviolent forms of resistance such as mass protests, stone throwing, and debates and campaigns on social networking sites like Facebook and Twitter.
---