What recourse do Pakistan's 'civilian drone victims' have?
In Pakistan's tribal belt, locals have no access to police stations, Pakistani courts, or the International Court of Justice to report being wrongly targeted by drones.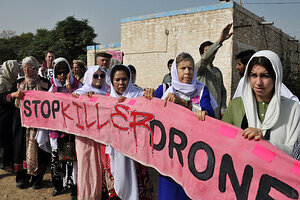 Mohammad Hussain/AP/File
In 2010, after three US Hellfire missiles killed his brother and his 18-year-old son, Karim Khan approached a Pakistani lawyer to help him.
Mr. Khan's son Zainullah Khan and his brother Asif Iqbal both worked at schools in the region. Zainullah worked as a guard at a girls' school, and Asif worked as an English teacher in an area where both girls' schools and schools that teach English are vulnerable to attacks by militants. Khan told the lawyer that both had chosen their jobs because they believed in the importance of education for girls.
"Karim called his son and brother 'civilian targets,' " says Shehzad Akbar, the Pakistani lawyer attempting to take Khan's case, along with 82 other families who claim to be victims of drone attacks, to Islamabad.
It's a difficult task, made more difficult because the more than 3 million residents in Pakistan's Federally Administered Tribal Areas (FATA) have no access to legal recourse.
"Tribal areas are officially a part of Pakistan – and their residents are formally citizens of this country. But they have no access to Pakistani or international courts, and therefore no legal redress for losses incurred because of US-led drone strikes," says Mr. Akbar.
---