In Pakistan, big perks and big risks to being a journalist
A bomb was found under the car of prominent journalist Hamid Mir, highlighting the difficulties facing journalists in Pakistan.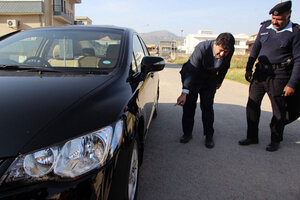 Sohail Shahzad/Reuters
Hamid Mir, a prominent Pakistani journalist known for being antigovernment and antimilitary, escaped an assassination attempt yesterday when a bomb planted under his car failed to explode.
"It is a message to me … and the journalist community," Mr. Mir said on air to Geo News, where he works.
That message is clear: You're reporting something we don't want you to report.
Although he received threats from the Taliban, who claimed responsibility for the death threat because he spoke against the group's attack last month on 14-year-old Malala Yousafzai, many within the journalist community here believe it was Mir's criticism of the Pakistani military that may have made him a target.
"These are dirty tricks orchestrated by the security agencies," says Matiullah Jan, who hosts a daily television show for Waqt News in Islamabad on media accountability. "When they cannot pay [bribe] someone, they attack the journalists. There are many journalists who are mouthpieces of [the security] establishment. There is obvious corruption."
Mr. Jan was himself attacked a few years ago and suspects Pakistan intelligence agencies were behind it.
---