India's sports bureaucracy booted from the Olympics
The International Olympic Committee decided Tuesday to suspend the Indian Olympic Association, citing bad governance and meddling by the Indian government.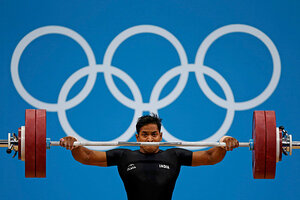 Paul Hanna/Reuters/File
In a rare move, the International Olympic Committee (IOC) decided Tuesday to suspend India's national Olympic body, the Indian Olympic Association (IOA), citing bad governance and meddling by the Indian government.
The decision stunned the nation, but athletes and analysts say it could turn out to be beneficial by providing India an opportunity to clean up its messy and corrupt sports administration.
"Bye Bye IOA, hope to see u again soon, hopefully cleaner!" tweeted Abhinav Bindra, the only Indian to have won an individual gold medal at the Olympics.
Mr. Bindra had earlier written in the Hindustan Times newspaper, "If our Olympic association is banned, it could be a blessing in disguise. With no multi-sport event in 2013, Indian athletes could afford a moratorium of three to six months, and unite to change the present system."

Snooker player Aditya Mehta tweeted, "Not surprised to see IOC's suspension of IOA.. Corruption cannot be tolerated.. Clean up the system India.."
India is not a sporting powerhouse at the Olympics, but the country has aspired to showcase its rising profile on the international stage by eventually hosting the Games. While those dreams look further off with this decision to punish the Indian sports bureaucracy, Indian athletes are unlikely to be barred from competing in international tournaments.
---