Good Taliban, Bad Taliban? Pakistani commander's killing exposes blurry lines
Analysts say the US drone killing of a 'Good Taliban' commander in Pakistan could unleash new violence by anti-government insurgents - or undo peace talks with the Taliban in Afghanistan.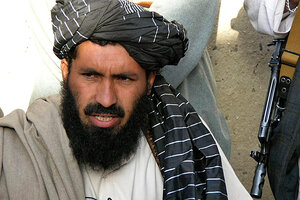 Alamgir Bitani/Reuters/File
The US drone killing of Pakistani Taliban commander Maulvi Nazir threatens to unleash new anti-government violence against the country's weak government or civilian targets, and expose fractures in the country's military and security forces, analysts say.
Mr. Nazir was traveling in a car in troubled South Waziristan, bordering Afghanistan, Thursday, when his vehicle was hit by a missile, according to media reports. He and six other Pakistanis believed to be militants were killed.
The attacks highlight the convoluted interconnections among insurgent factions in Pakistan, some of whom are focused on fighting US forces in Afghanistan, others of whom seek to topple Pakistan's government. Still other groups target Indian forces. Many of the factions are backed or financed by military and intelligence agencies in Pakistan, who have differing agendas themselves.
The killing was confirmed by Pakistani intelligence officials in the nearby city of Peshawar who spoke on condition of anonymity since they were not authorized to speak to the press.
---