Beyond rape trial, a bigger question about women's status in India
Court proceedings began today for five of the men accused in the deadly gang rape of a young woman in Delhi that led to her recent death.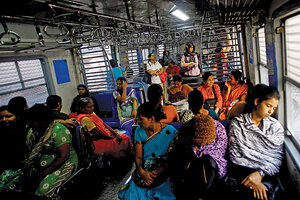 Rafiq Maqbool/AP
In a slum colony in one corner of Delhi, a heated debate is taking place near the home of Vinay Sharma, one of the six accused in the rape of a 23-year-old student last month that shook the capital and prompted a national discussion. Court proceedings in the case opened today.
The women of Ravi Das Camp gathered to listen to Mr. Sharma's mother defending her son to a reporter but were soon arguing over whom to blame for sexual violence.
"Have you seen how women in Delhi wear short skirts and sit so tight with their boyfriends on motorcycles as though they are going to devour them?" asks one woman, adding, "Men will be men; women should know how not to attract attention."
A high school girl in jeans disagrees. "Why should boys have all the freedom?" she asks. A middle-aged woman, dressed in a sari, supports her. "Nobody rapes a man who comes home at 2 a.m.," she says.
"That is how it is," someone else replies. "Even if a woman becomes a top bureaucrat in our society she is still seen as a woman."
The Delhi gang rape, and the consequent flood of reports on rampant sexual harassment and violence in India, has brought global attention to an issue that has been largely overshadowed by the country's "growth story": Despite prominent female leaders and important strides in education, many Indian women continue to face discrimination and violence daily, especially if they are from marginal communities.
Crimes against women are high, illegal child marriage and payment of dowries persist, and some gender gaps are widening.
The World Economic Forum ranked India 105 on the Gender Gap Index in 2012, up from the year before, but below its 2006 ranking, and far below countries like Ghana and Bangladesh. It scored highest on political empowerment and lowest in women's health and survival.
---