Musharraf returns to 'save Pakistan,' but nation skeptical
General Pervez Musharraf ruled Pakistan for nine years until pushed into self-imposed exile. He returned today to stand for parliamentary elections in May.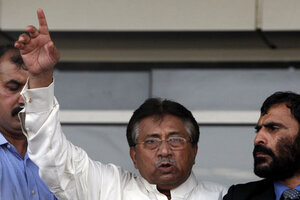 Akhtar Soomro/Reuters
The return from self-imposed exile of Pakistan's former president and Army chief, Pervez Musharraf, has sparked little excitement in the country he ruled for nine years.
Mr. Musharraf left Pakistan as a retired general, but returns as a politician whose party is planning to contest parliamentary elections this May while he has a number of legal notices to respond to. While Musharraf says that he has returned to "save Pakistan," analysts believe that the former Army chief will have a "minimal" impact, if any, on the elections.
After several years of living in exile in London and Dubai, United Arab Emirates, Musharraf announced that he would come back to Pakistan after the parliament – which threatened to impeach him in 2008 – completed its term and a caretaker government was in place. This was largely met with skepticism, given that his return has often been delayed. He arrived in Karachi on Sunday and spoke briefly with supporters amassed at the airport.
"I have come back for the poor people," he said, despite the threats to his life. "I will be addressing rallies all over Pakistan, please come and listen to me again." His planned rally on Sunday evening in Karachi was abandoned after the provincial police canceled a no-objection certificate issued to his party for using the venue.
In 2010, Musharraf formed a political party called the All Pakistan Muslim League while living in London. But his career as a politician in exile has not been successful. Several members left the party after being disillusioned by Musharraf's reluctance to come back to Pakistan. His party has little infrastructure or not much of a membership base, and has not been an active political force to reckon with. Party spokesperson Aasia Ishaque said that "Musharraf is a brave man" for opting to return and would be given a "grand welcome" by his supporters.
---