Can Pakistan drive the Taliban out of its tribal belt?
With the 2014 withdrawal of NATO troops in neighboring Afghanistan looming, Pakistan is turning its attention to the impoverished tribal areas where regional terror groups have long sought haven.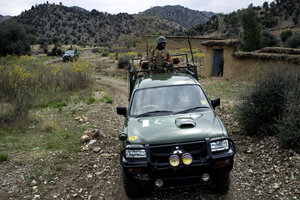 B.K. Bangash/AP
South Waziristan, Pakistan
Impoverished and perpetually neglected by the country's central government, the semi-autonomous tribal regions of northwest Pakistan have long been a simmering source of both national and regional tension.
For years, the country's central government has tacitly allowed extremist groups like Al Qaeda and the Taliban to use the region as a kind of haven for militants waging conflicts just across the border in neighboring Afghanistan. Meanwhile, the aftershocks of that conflict have spilled over into the tribal areas' civilian population, disrupting education and economic activity.
Now, with the 2014 withdrawal of NATO troops in Afghanistan looming, the Pakistani government is reexamining its role in the long-neglected region and renewing its counterinsurgency efforts against militants. But many analysts, local leaders, and residents question whether the country has either the will or the resources to truly reform its tribal belt.
"The tribal areas have been knowingly neglected socially and constitutionally by successive regimes since independence," says Rahimullah Yousafzai, an expert on the Federally Administered Tribal Areas (FATA), as the regions are collectively known.
---