Pakistani women hit the campaign trail to get out the vote
Women, nongovernmental organizations, and a council of conservative Muslims are doing their best to avoid a repeat of the poor 2008 election showing among women.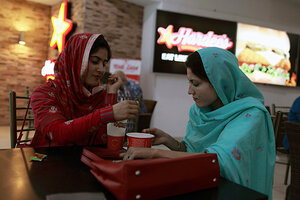 Zohra Bensemra/Reuters
The last time Pakistanis went to the polls, few women from the rural conservative areas of Pakistan cast a vote. And as the country marks its first-ever civilian to civilian transition of power this month, officials worry it will happen again.
While many women in urban areas actively engage in civil and political society, in rural areas of Pakistan it's a different story: Tribal tradition shapes the way the patriarchal society works, keeping women in this region largely out of public life.
Local woman's rights activists are working to inform women about their right to vote, in the hopes of challenging the paradigm here.
"Although the political culture in the [rural parts of the] country is not [accommodating] of women, there is more attention being paid to women issues. We are seeing a difference because women are raising their voice against this injustice," says Farida Shahid, executive director at Shirkat Gaah, a prominent women rights organization in Pakistan.
There is much to do: Only 37 million women registered to vote, compared with 49 million registered male voters. This year some 11 million voter-age women, mostly in Pakistan's conservative rural areas, do not even have the national identity cards required to register to vote, according to the Pakistani independent polls watchdog Free and Fair Election Network.
In 2008, out of the 28,800 special polling stations set up for them, women did not cast a single vote at 564 polling stations – the majority of which were in conservative northwest Khyber Pakhtunkhwa (KP) Province. Though that could be because men did not permit women to vote alone, only 38 percent of registered women voters cast ballots, compared with 50 percent of male voters, according to the watchdog group.
---