Egypt's Internet shutdown, visualized
(Read article summary)
Google Transparency Report's traffic numbers provide a stark illustration of the impact of the Egyptian government's Internet shutdown that began last week.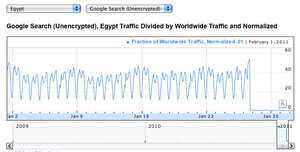 Google Transparency Report
Want to know what it looks like when a government shuts down the Internet? Click on the graphic on the left, or view a dynamic version.
That graphic, courtesy of Google Transparency Report, shows traffic to Google Search from Egyptian Internet Protocol (IP) addresses. While Google Search clearly doesn't encompass all Internet use, it's likely one of the most heavily-used Web services and therefore a pretty good indicator of what the status of a country's Internet access is. See the steep drop on the right end of the graph? That shows a rock-bottom plummet in Internet traffic, which coincides with the government's block.
If you go to the dynamic version of the graphic, you can move your cursor along the data points to see traffic at any time. Google Search use peaked at one point on Jan. 27 and nose-dived later in the day to almost no traffic. Google's graph shows no significant change (read: lessening of Internet blocking) since then. The Internet remains down. Our Cairo correspondent has been phoning in her stories word-by-word for several days now.
Wired magazine reported yesterday that the last Internet service provider in Egypt went down Monday. Most other major providers went dark on Friday, Jan. 28. Security researcher Renesys called the Egyptian government's actions "unprecedented."
---