Video deepens mystery around ex-FBI agent Bob Levinson, a hostage in Iran
(Read article summary)
The family of former FBI agent Robert Levinson, missing in Iran since 2007, confirmed today he's being held hostage and released a video provided by his captors.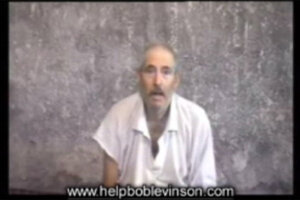 Levinson Family/AP
The mystery surrounding former FBI agent Robert Levinson, who disappeared on Iran's Kish Island in 2007, deepened today with the curiously timed release of a year-old hostage video.
Mr. Levinson worked for the FBI for 27 years and was engaged in a second career as an international investigator when he vanished. At the time, his family said he had gone to Kish, a sort of free zone for Iranian trade, to investigate cigarette smuggling for an undisclosed client.
Ever since, the US and his family have gone about the business of locating Levinson as if he were being held by the Iranian regime. The State Department has said on a number of occasions that it suspected Iran was withholding information about Levinson's disappearance.
Press TV, an Iranian government propaganda outlet, carried an article shortly after his disappearance, that said Levinson had been taken into Iranian custody on March 9, 2007, and predicted he would be freed within a "matter of days."
But today Levinson's family said he's being held hostage by an undisclosed group, and released a video of Levinson in captivity. His wife, Christine, said the family received the video in November of 2010. The video – and the family's reaction to it – in many ways serve to deepen the mystery around Levinson's plight.
---