The Iraq war ends with a sovereign Iraq kicking US out
(Read article summary)
That the Iraqis were in a position to kick the US out is probably the main accomplishment of the Iraq war.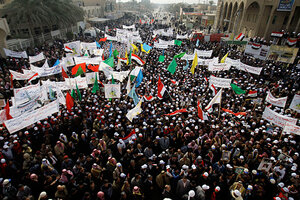 Khalid Mohammed/AP
So the Iraq war ends. What began as a mad dash to Baghdad without much worry about what came next, complete with an infamous May 1, 2003, "Mission Accomplished" moment ("In the battle of Iraq, the US and our allies have prevailed" President Bush said from the deck of the USS Abraham Lincoln then) quickly cratered into an insurgency and civil war that claimed at least 100,000 Iraqi lives and 4,500 American ones.
Now it's over, and it's time for a thousand retrospectives to bloom. US politicians and the pundits that serve them have been trying to frame the Iraq war in terms of whether Bush won Iraq, or Obama lost it, or vice versa. They're almost all of them wrong. The claim that President Obama met a campaign promise today is technically true – but only because Iraqi Prime Minister Nouri al-Maliki forced him to. Obama was seeking to keep troops in Iraq, perhaps as many as 15,000 of them, beyond the Dec. 31 withdrawal date.
But the Iraqi government, led by Shiite Islamists with ties to Iran and well aware that an extension of the US occupation would be political poison for them (already dealing with public anger at rampant corruption and poor service delivery), had none of it. Mr. Maliki told Obama he could have his troops in the country if they were subject to Iraqi law, something he and everyone else knew was a deal-breaker.
---