NATO divided over Ukraine, Georgia membership bids
Ahead of a major summit April 2-4, Germany is leading the opposition against their accession.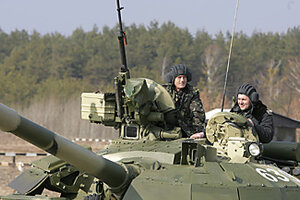 Ahead of a key NATO summit next week, the bids of Ukraine and Georgia to join the world's premier security organization are in rough waters – crowded out by priorities such as Afghanistan and missile defense and opposed by influential members such as Germany.
Advocate nations argue – former Warsaw Pact states particularly vociferously – that a blanket denial of the bids will have major geostrategic implications: It will thwart the fragile democratic "color revolutions" in those states, allow Moscow time to bully the states back into its control, and constitute a veto by Russia over NATO membership.
"This is dramatic high-stakes stuff," says Ronald Asmus, a former US diplomat who is now director of the German Marshall Fund in Brussels. "We might look back at loss, we might get a deal – it will go down to the wire. I hope we have a Plan B. Maybe we do, but I haven't heard about it. It will need to be a lot of substance – substance more than words."
While three Balkan states are due to be admitted for membership, Ukraine and Georgia are looking for an "invitation to an invitation" to join. But some influential member states, led most visibly by Germany, doubt the two suitors' readiness.
---