In embattled Kosovo, Serb professor teaches common ground
Obrad Savic targets the next generation with a message about breaking accepted Balkan stereotypes.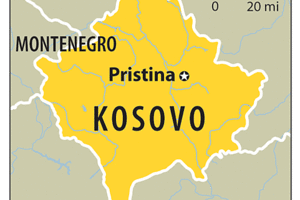 Rich Clabaugh–STAFF
He is a famous Serb political philosopher working in the trenches of Kosovo Albanian universities – not a place most Serbs dare to tread. He teaches human rights to Albanian students who grew up on war and who have no experience with Serbs, yet who seem to adore him as much as he does them.
Obrad Savic left plush academia in Leeds, England, to teach in the slush of Kosovo. But it's a job that fits him and his message of universality. He is something of an intellectual refugee – kicked out of Belgrade by Slobodan Milosevic – who is now changing the lives and minds of future leaders in the most contested ground of the Balkans.
In fact, Mr. Savic says, his most important point is not how different Balkan peoples are – the accepted stereotype – but how genuinely the same they are. That fact, he says, is crucial for the next generation to understand. "We have always been a bridge between east and west, north and south. We're not European and not Asian. We recognize all the different influences from these places, Arab and Turkish, Byzantine and cosmopolitan," argues Savic. Balkan people are expert at reading these mixtures and understand them in a unique way that has never been fully appreciated.
It's a message he repeats in classes, art forums, and cafes: The Yugoslav breakup forced people to think of themselves as captives to small nations with separate identities who had a proclivity for violence and hate. He terms it a "great fallacy."
---