Will Karadzic's genocide trial redeem The Hague?
The Bosnian Serb leader's arrival at the UN war crimes court offers it a second chance after the inconclusive trial of Slobodan Milosevic.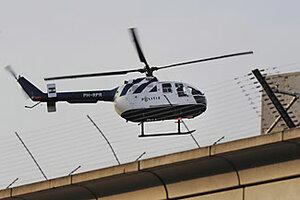 Ermindo Armino/AP
After evading arrest for 12 years, the self-styled Bosnian Serb leader Radovan Karadzic will appear at the Hague tribunal Thursday. There, he will say whether he is innocent or guilty of masterminding a war in Europe that set ethnic Slavs against each other, creating death squads, 1.8 million refugees, and hate and divisions in the former Yugoslavia that have not yet ended.
The prosecution at the first international war crimes court since Nuremberg hopes that the trial will fully clarify what happened in the worst theater of the 1990s Balkan wars – Bosnia – and that it will lead to a clear conviction of genocide.
This time, the tribunal is determined not to be stymied by a wily defendant. After a torturous and inconclusive four-year trial of Serb strongman Slobodan Milosevic, marked by delays, obstinacy, grandstanding political harangues, and finally Mr. Milosevic's 2006 death in a Hague cell – the Karadzic trial is seen as a second chance for the tribunal to convict a leader at the apex of responsibility.
"All that has gone before is a dress rehearsal," says Mirko Klarin, a Serb documentary producer who has covered the tribunal daily since its inception in 1993. "The evidence presented at the tribunal for genocide in [six Bosnian cities] is available. In Karadzic, they have the main link between Milosevic and Serbs in Bosnia."
---