Spain, Italy: Two tactics for tackling illegal immigration
Italy is using state of emergency powers, while Spain has introduced measures that include paying jobless immigrants to go home.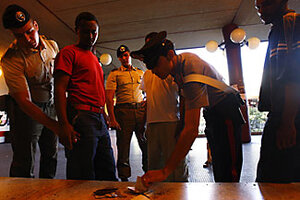 Tony Gentile/Reuters
Miriana spends her nights sleeping in a park, and her days hunched on a stoop outside a Madrid shop, begging for money. The young woman admits that she earned more in Italy, where she lived for a year. But for this Romanian immigrant, who is also ethnically Roma (or gypsy), the decision to move to Spain was easy.
"Here, the people are better," she explains in broken Spanish. "They don't have as much hate."
Both Spain and Italy, situated across from Africa on the Mediterranean coast, have faced huge influxes of illegal immigrants over the past couple of years – 18,000 intercepted by Spain last year alone, and 12,000 by Italy so far this year. But their governments, though sharing a conviction that the problem urgently needs to be curbed, have taken different approaches to reach that common goal.
While Spain struggles to find the balance between limiting immigration and protecting human rights, Italy has implemented state of emergency measures and even fingerprinting of Roma – measures decried as "xenophobic" by the human rights commissioner for the Council of Europe, Thomas Hammarberg.
"The Spanish government has a very strict policy," says Roberto Malini, president of the Italian human rights organization EveryOne. "The Italians have an intimidatory policy: the idea is to scare immigrants, so that when they go home, they can tell their countrymen that Italy is no place for foreigners."
Italy: State of emergency
On July 25, Italian Prime Minister Silvio Berlusconi's government passed a decree that allows the government to use military troops to monitor the country's 16 immigrant internment centers and to deploy another 3,000 soldiers to several cities in an effort to control crime, which is often blamed on immigrants.
---